The Last Stroke presents A Way of Thinking
Tuesday, February 14th, 2012
Categories: Reports, The Last Stroke, Updates
I met Manuel Mathieu two years ago at a market research firm and liked him instantly. As his supervisor, while his telephone tone left much to be desired, he was a standout for his authenticity, charming demeanour, and raw talent. For this interview I visited him at his studio in the east end of Montreal where he is currently wrapping up a residency with Studio Beluga. Surrounded by a dozen or so of his new paintings in various stages of development, I couldn't help but notice an immense growth in his work.
Born and raised in Haiti, Manuel Mathieu emigrated to Montreal, Canada in 2006 to pursue a BA in Visual & Media Arts at UQAM. Like most, his practice was simple at the start, but the freedom that came with creating was irresistible and ultimately propelled him to become the full-time artist that he is today. Manuel, now 25, is comfortable creating through a variety of mediums, and is much a painter as he is a photographer and video artist. Having been introduced to art by his father's cousin, he was immediately attracted to the possibility of surrounding himself with people who share his passion for self-discovery and creative expression, and he has since devoted himself to pushing personal boundaries and nurturing that initial sense of freedom.
Since completing his bachelor's degree at UQAM, Manuel has invested substantially more time and energy into his artistic aspirations and career—a commitment that is certainly unfeigned. Upon receipt of his diploma, he spent four months touring the art epicenters of America—New York, L.A, and Miami—studying and submersing himself in the art world, before embarking on a four-month-long residency. Despite devoting 40+ hours a week to his practice—the equivalent of a standard 9-to-5—Manuel doesn't see painting as a job: "I think the work of any artist or creative person has more to do with a way of looking at something and the kind of questions that subsequently transpire. This constant state of discovery can be of yourself, your practice, your thoughts, or anything that relates to your vision as an artist. For me, being an artist is really a way of thinking."
Manuel may not consider being a full-time artist a job, but he admits that there are certain challenges that accompany his ambitions: "Sometimes I think that the drive to achieve is overpowering the work itself. I think that I'm so focused on getting somewhere that I sometimes loose sight of living what I'm doing, which can be sad." Still, it's difficult to criticize Manuel's acute ambition when his paintings explode with a visceral energy that is seemingly reflective of the time and energy that he dedicates to both his practice and the entrepreneurial side of being an artist.
In terms of the work itself, Manuel's latest series reveals brush strokes that are more technically conscious and calculated, which he deems, "new concerns." Essentially his recent travels and period of self-exploration have contributed to a better understanding of certain techniques, compositional styles, and ways of applying paint. And his ensuing residency with Studio Beluga has permitted him the opportunity to pair his recently refined knowledge with his own instincts, feelings, and thoughts to develop a language of his own.
Another prominent feature of his work is an air of spontaneity, an unrestrained improvisation that is also highly controlled at the same time. Is Manuel's practice indeed spontaneous or does it involve a predetermined system of paint application? "You know, I think there's a little bit of both. What I've realized is that I spit on the canvas—an expression that he kindly clarified as not being literal in sense—I really do something spontaneous. It happens pretty fast and then I work on the details; I erase and focus on compositional concerns." This method of paint application really shows in Sitting, Thinking, a painting for his upcoming springtime exhibition at the MAI in Montreal. "You can tell that there was a time when things were pretty intense. I'm becoming aware that there's a formal practice to my work, and that's what I'm dealing with right now. I'm trying to mingle between spontaneous and controlled movements to create my own language. I think I'm on the right path, and it shows in my work. But I'm not there yet. I still feel like I have a lot of work to do in terms of fully understanding techniques and composition, and then, of course, combining the two."
Technicalities aside, Manuel's residency with Studio Beluga has been truly marvelous. Not only did he have the opportunity to work on his series for the MAI, but he also describes sharing a studio space as "priceless". "Engaging in an open dialogue with other artists—specifically, sharing our visions, thoughts, and sensibilities—has had a major influence on me. Our work may be very different, but we share an inherent understanding and act as a constant reminder to push personal boundaries. I've been exposed to a new way of exploring, seeing, and appreciating, which has encouraged me to see my work in a new light. Not to mention that the curators believe in our work, and for any artist that's a good feeling. I definitely want to take part in more residency programs as a result of this powerful experience." The Studio Beluga Fall-Winter 2011-12 residency show, Locate Me, epitomizes Manuel's experience by considering the idea of the unknown destination that is inherent in creative processes, communication, and life in general.
With the opening of Locate Me right around the corner and the MAI just a little over a month away, Manuel doesn't miss an opportunity at exposure. Whereas his past work appears to reflect a raw reality, his upcoming solo-exhibition focuses heavily on composition and represents an alternative realism that is almost grotesque: a theatrical-like or fake version of humanity that lurks on every canvas. The series juxtaposes a specialized usage of space with a metamorphic flux of the human, animal, and nature; a combination that is as emotionally moving as it is visually stimulating. He describes his forthcoming series as "more mature than [his] last—Happy People, which showed in November 2011. Because I'm working with larger paintings, I really pushed boundaries in terms of my use of space, therefore allowing me the opportunity to experiment more so than in the past. This series really permits a more immersive perception of my work. The MAI venue is also very big, so I really wanted to use the space of the room to evoke a more dramatic way of seeing the pieces. As a viewer you'll have the opportunity to observe the figures or stand in the space of the painting itself. While I was working I took the time put myself inside of the paintings, and I'm hoping that people will project themselves into the paintings too. I really wanted to create an experience rather than just a viewing."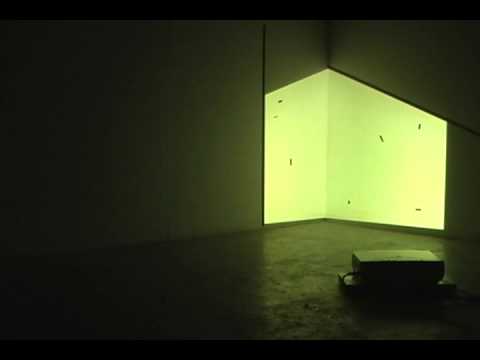 Dispersed among Manuel's well-documented output of paintings are works involving alternate media, including Rendering, a video installation created during his residency. The installation, which consists of two television monitors facing each other, is inspired by his personal relationships and exchanges and is essentially a contemporary social commentary on human interaction through technology. While the film may be sexually suggestive—capturing lips, tongues, and fingers that are trying to connect but will never actually touch—the piece is actually about communication, connection, and contact.
As our own interaction came to a close, I asked Manuel whether he sees himself as a Caribbean artist, to which he diplomatically replied: "I am more concerned with what I'm doing at this moment, which is developing my mind and expressing my inner-self. I remember this French critic saying that "the voice of a piece doesn't reside in where it comes from, but where it is going". Manuel Mathieu may be committed to creating an alternate reality, but in the real world, he is someone to keep an eye on.