ArtInfo UK reviews Kimathi Donkor's, 'Queens of the Undead'
Friday, November 9th, 2012
Categories: Exhibitions, Updates
Coline Milliard, for ARTINFO UK reviews the current exhibition by UK painter Kimathi Donkor 'Queens of the Undead' which is on view till November 24, at Iniva, London.
Kimathi Donkor is an enthusiastic cultural sampler. His large-scale figurative paintings — currently on show at Iniva — are genuine cornucopias of interwoven reference: to Western art, social and political events, and to the artist's own biography. But all share a common goal: the celebration and exposure of lesser-known, or shady, aspects of ancient and contemporary history, from great female leaders of Africa and the African diaspora to the harrowing "mistakes" of the Metropolitan Police.
Shown on the first floor, the self-portrait "Helping with Enquiries: 1984″ (2005) can be read as a seed for most of Donkor's recent work, encompassing both his early political commitment and use of art historical sources. The canvas shows the artist, stark naked, beaten up by two uniformed officers at a police station. The real-life episode coincided with Donkor's first day at art school, and no doubt played a role in his progressive politicization in the second half of the 1980s. There's a palpable sense of immediacy in this image. The painter pictures himself his face half-turned, having just been slapped — almost, and disturbingly so, like Christ during the Flagellation.
The other pictures in this room constitute a strident attack on racist abuse of minorities in Britain. Donkor doesn't shy away from the theatrical. "Johnny was borne aloft by Joy & Stephen" (2012) represents Jean Charles de Menezes, the young man shot by police who mistook him for a terrorist in 2005, carried by victim of racist assault Stephen Lawrence and Joy Gardner, a Jamaican woman who died while being arrested to be deported. The painting's composition mirrors Caravaggio's "Entombment of Christ" (1602-3). The direct religious reference is again uncomfortable, but it is perfectly in keeping with Donkor's agenda. Christ is the most prominent embodiment of suffering in the Western tradition. The artist sets out to create icons of our time, contemporary monuments immortalizing those who are only ever shown as victims, if at all. Here they are presented as saints.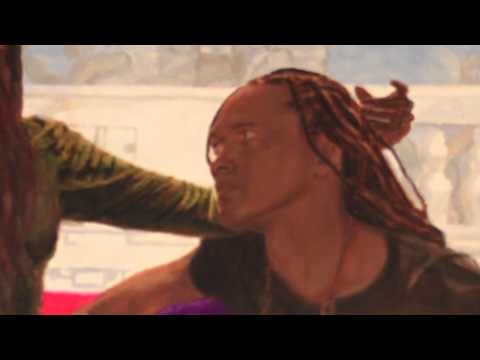 Donkor's series of paintings "Queens of the Undead," which forms the bulk of the exhibition, also pertains to icon-making. The subjects are four black female leaders considered national heroines in some parts of the world, barely known in others. One of them is the Queen Njinga Mbandi, who fought the invading Portuguese army in 17th century Angola. Donkor has dedicated three paintings to the life of Njinga, famous for her power and — according to her biographer, the Italian priest Cavazzi — her decadence. She is believed to have kept a harem of cross-dressed men at her disposal. In "Drama Queen (Scenes from the life of Njinga Mbandi)," (2010), the artist pictures a modern day Njinga, on the phone as if on important business, absent-mindedly stroking the head of one her husbands sitting at her feet (another self-portrait). Through a window, a crop from the background of Veronese's "The Family of Darius before Alexander" (1565-7) gestures towards Italian art made during Njinga's reign, materializing a lateral reading of history.
Donkor's fictional portrait gallery also comprises Nanny, an 18th century Maroon leader in Jamaica, the fierce Harriet Tubman who led black people to the slave-free Northern states and Canada, sometimes at gunpoint, and Yaa Asantewaa, the Ashanti queen who spearheaded the uprising against British colonialists in what is now Ghana. Compositions borrowed from William Hogarth and Joshua Reynolds are combined with Third World revolutions' iconography, contemporary fashion, and cinematic framings. Donkor's meticulous style verges at times on the pedagogical, but his message is as clear as the figures he depicts. In his hands, history painting regains some of its power as a tool of commentry on the present.
Kimathi Donkor: Queens of the Undead, September 13 – November 24, 2012, Iniva, London. For original article visit ArtInfo UK.
Born in Bournemouth, England in 1965, painter Kimathi Donkor lives and works in London. He has a BA in Fine Art from Goldsmiths College and an MA in Fine Art from Camberwell College of Arts, as well as a PGCE in Art and Design. He is completing his doctoral thesis with Chelsea College of Art and Design.
Recent exhibitions include Invisible Forces, London (2012) Seven things to do in an Emergency, Rome (2011) and the 29th São Paulo Biennial, Brazil, (2010) as well as solo exhibitions Hawkins & Co, Armagh, (2008); Fall/Uprising, London, (2005) and Caribbean Passion: Haiti 1804, Nottingham (2005). In 2011, he was awarded the Derek Hill scholarship for the British School at Rome, and in 2009 he received an Arts & Humanities Research Council full masters award.