RBC Focus Reflections with Natalie Wei
Wednesday, November 21st, 2012
Categories: Features, RBC: Reflections, Updates
RBC Focus: Filmmakers' Immersion at the ttff/12, which took place from September 19 to October 2nd. In 2011, RBC Focus was introduced to the festival as part of the bank's commitment to developing emerging artists in the region. This talent lab returns in 2012 and will engage promising Caribbean filmmakers in an intensive 4-day development programme. They will be exposed to group discussions and exercises on a range of documentary filmmaking techniques geared to enhancing their creative voice.
ARC Magazine is partnering with RBC to present a series of weekly interviews with past and current candidates from the Focus Immersion Filmmakers' programme. It is our hope that their stories, trajectories and elucidation opens up a way for emerging filmmakers to understand the infrastructure being created to support the film industry across the Caribbean. This week we continue with Natalie Wei.
Leanne Haynes: How did you hear about the RBC Focus project? Was it something you had heard of before?
Natalie Wei: I first became aware of the RBC Focus Filmmakers Immersion at the 2011 Trinidad and Tobago Film Festival.  I was very fortunate to be premiering my first documentary short film, "Chinee Girl" at the festival and so was participating in the festival as a filmmaker.   We are extremely fortunate as filmmakers that the festival grants us access to all screenings, workshops and pitch sessions and so I was present for the pitch session last year and attended that year's RBC pitch session.
LH:  What prompted you to apply for the RBC Focus Filmmakers Immersion project?
NW: This year, I submitted an earlier experimental short, "And They Say, Don't Play with Poison" to the ARC / TTFF collaborative experimental short programme at Medulla Gallery, entitled "New Media".   Although I had recently produced and directed a documentary, I was not entirely committed to working only in documentary.  I have every intention of expanding my work based on previous research into narrative film projects and animation.  However, I was informed that there would be a focus on documentary at this year's RBC Focus Filmmakers Immersion, so I made every effort to submit an idea I had been contemplating but had not developed further than an initial synopsis because it was a very recent discovery.
LH: What did you expect to learn from the workshops and were your expectations exceeded?
NW: I was aware of the general structure of the workshops, however it is always just the beginning of what the experience will be and how the entire event will transpire.  My expectations were open, but at the same time recognizing that it would be an intense four days, to do any and everything including expanding on the initial synopsis, investigate and developing the 'characters' or topic, examining the story structure and really flesh out the ideas.  But more specifically, as you work on your own project you are simultaneously engaging with the ideas and projects of the other participants.  I missed this intimacy and trust, being out of "art school" for a few years now, where each project is as unique as the person making it but yet the group still strives to assist in any and all ways possible.  The facilitators, Alrick Brown and Fernanda Rossi, were a wonderful balance of practical and theoretical knowledge and pushed all of us to examine our work from various angles and to find the true voice of the project.
 LH: What was the atmosphere like? What was it like working with other filmmakers from the region?
NW: The environment was extremely collaborative.  Hosted at the Trinidad and Tobago Film Festival offices, it really was a wonderful opportunity for ten filmmakers from the region to meet and work together as we worked on our own projects with the facilitators.  Being able to set aside those days and focus solely on your own work and film is an invaluable opportunity.  Film in the region is developing at such a rapid pace, but the environment is one of collaboration and support.  Despite the differences in subject matter, approach and style, we all understand that supporting each other and having the ability to work through your challenges with a group of people struggling with similar issues, or simply approaching it from an outside perspective or different vantage point, gives you so much to consider about yourself, your approach and your own project.  And vice versa.
 LH: What did the workshops consist of? How did you find it working with the creative directors?
NW: The workshops consisted of a combination of group discussions, short assignments, some additional homework and intense and careful thought along with the opportunity to see the work of both of the facilitators during one evening as they were screened together – Fernanda Rossi's short film, "Clara Like Water" and Alrick Brown's film, "Kinyarwanda".  It was wonderful to hear them speak about their work and their own creative process and reasons for making the work they do – which only deepened our respect for their professional skills that were utilized during the immersion as our workshop facilitators.
LH: What project did you submit? 
NW: FIFTY LETTERS is my first documentary feature film (currently in development) and tells the courtship of Chin Sue Chen, a Chinese schoolgirl who refused to marry a complete stranger.  As the newly formed Communist government closed in on her village, a man thousands of miles away in Trinidad made a proposition of marriage based on a single photograph.  While struggling to understand her family's decision, she insists on conducting the correspondence on her own terms, to which he gladly complies.  She maintains her family connections through letters and photographs to her extended family in Tahiti, Hong Kong and her village in China.  Sixty-two years later as her husband's health wanes and memory fades, she gives her Canadian granddaughtera lesson in love by translating fifty handwritten letters exchanged with the man she fell in love with through words alone.
Fifty Letters as a project was pitched twice during this year's festival – first, as one of those selected from the RBC Focus Filmmakers Immersion, and second as a wildcard entry in the Tribeca Film Institute / WorldViewnarrative pitch session, held just prior to the RBC event on the same day.   I was present in the Tribeca session to support some friends and other regional filmmakers during their pitches and hoping to understand by example how best to further craft my pitch for the afternoon session.  The judges allowed three additional pitches and also opened the floor for documentary pitches as well.  I'm thrilled to say that Fifty Letters received the documentary pitch prize from the Tribeca Film Institute / WorldView partnership and will be creating a three minute version of Fifty Letters for "Your World View" to be featured on their website.  More significantly, the award comes with support from both institutions and mentorship.  I'm so pleased that this project about Chin Sue Chen will come to realization with such wonderful support.   She is my grandmother and is ready to tell her story, and I am ready to capture it and share it with the world.
LH: How did you become interested in film? 
NW: I came to filmmaking through still photography.  As a photographer by training, having completed my BFA in Photography Studies at Ryerson University, images and image-making has always been the way in which I best see and understand the world.  However, the written word is something that has always deeply resonated with me and from a young age, I have had an appetite for all genres of writing: fiction, non-fiction, Caribbean literature, politics, philosophy, science fiction, classic literature, crime dramas.  It informs your framework and teaches you, in a very different sense, that each person can see one thing, one event, very differently.  And each perspective is perfectly valid.  Being critical about what one sees, or reads, is something that happened to me much later, but coming to an understanding of both what is being seen/written and who is doing the seeing/writing are equally important to understanding a work.  Which is a separate thing entirely from whether you 'like' it or not.  So, I suppose I came to filmmaking from a number of different ways, through the lens, through the written word, and with a desire to combine the two in seeking to hear the voice behind it all.  The University of the West Indies, St Augustine, supported my research into image, culture and identity concerning Women of Chinese Descent in Trinidad.   The realization that this research would culminate in a film was the result of ongoing dialogue between Professor Patricia Mohammed, my research supervisor and myself.
LH: Are there any particular (Caribbean) filmmakers that have influenced your path?
NW: At the moment I am trying to consume/watch as much film as I possibly can.  My work is strongly influenced visually by my still photography background and I seek to infuse aspects of this into my cinematic work.  The work of all of the filmmakers' currently working in/around/about the region is equally significant and influential.  I have had the opportunity to work with some of them on a few occasions and thanks to the TTFF, had the opportunity to meet and speak with a number of others that gathered together during the festival itself.  Richard Fung's work is significant, as a filmmaker of Chinese Trinidadian descent, his works "My Mother's Place" and "Sea in the Blood" resonated with me.
LH: Are there enough opportunities for emerging filmmakers in the Caribbean?
NW: "Enough" is quite an interesting choice of words, but I'll go out on a limb here and say no, of course there could always be more opportunity.  The industry is developing, building, growing at a rapid pace and there is energy and engagement and passion for filmmaking from those from every Caribbean nation and the diaspora to tell their stories – past, present, future and imagined.  It's a wonderful time to be a filmmaker and to have funding to realize your project, to have a festival to screen your work, and to have audiences willing and excited to view the work and engage in the process at every level.  The industry in Trinidad in particular is still young but developing and engaging those in the region and abroad.   Everyone involved in the industry is simultaneously learning and teaching others and the collaboration that is occurring is really something of which to be proud.  I am thankful for the opportunities thus far, to work with some amazing professionals, generous and talented individuals, that had the patience and energy to teach me filmmaking from the ground up – and I'm still very much learning.  Each new project is a new learning experience and having those around you that are experts at what they do means we can all assist each other to realize the potential of everyone's work and build an industry from within that engages its own people at every level – to tell 'our' own stories with our own voices – and see ourselves on the screen.
LH: What three pieces of advice would you give to emerging filmmakers in the Caribbean?
NW: Be curious.  Be grateful.  Be impatiently patient.  And not necessarily in that order!   If you want to do something, knowing nothing about what it is you want to do only means you have a little further to go before you realize the idea or project.  Ask a lot of questions and thank everyone that's supported you – in my case, put up with A LOT of questions.
Someone once told me, "Don't worry, your first film is the worst one you'll ever make!" Sometimes being patient is required, but the truth is you'll never have enough money or time or the perfect circumstances… so continue to make your work, learn from your mistakes, then go ahead and make new ones!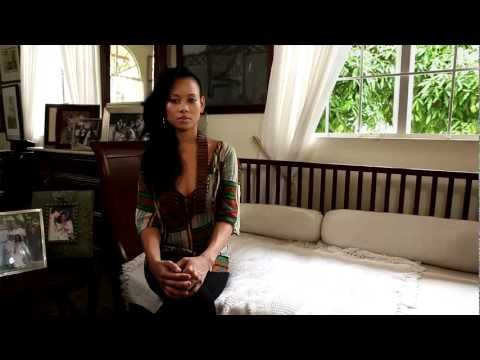 LH: What's next on the horizon for you? Please share!
NW: I've just returned from screening "Chinee Girl" at the Brooklyn Public Library on November 18, 2012.  This screening was a direct result of the request of two Facebook fans of the film that had never seen it, but heard about the project online.  After months of corresponding and coordinating, we settled on a November date.  Hurricane Sandy hit New York and the devastation made me uncertain as to whether we would still proceed, but I was reassured that it would go ahead and so we screened to a full house and extremely supportive crowd. "Chinee Girl" will be available for purchase on DVD within the month and on VOD in the near future.
Fifty Letters is currently in development and I'm looking forward to building and engaging my audience from the beginning of the process.  It will be a completely different way of working but I'm extremely excited to begin and so is my grandmother!
Biography: 
Natalie Wei is a Canadian-born artist, freelance photographer and emerging filmmaker of Chinese Trinidadian descent.  Her award-winning work addresses memory, history, and identity.  And They Say, Don't Play with Poison, is an experimental short and precursor to Chinee Girl, examining similar themes concerning gender, identity and belonging.
Her documentary directorial debut, Chinee Girl, premiered at the 2011 Trinidad and Tobago Film Festival in Port of Spain and was awarded People's Choice Best Short Film.  It has since received international recognition, screening at the University of Pretoria, South Africa, the Association of Cultural Studies Conference (Guadeloupe), the Africa International Film Festival (Lagos, Nigeria) and is having the Canadian Premiere this upcoming September at Harbourfront Centre (Troronto, Canada).  Chinee Girl was generously supported by the University of the West Indies, the Trinidad and Tobago Film Company and Chinese Bicentennial Limited.