Interview with Trinidadian filmmaker Steven Taylor
Tuesday, January 1st, 2013
Categories: Features, Film, Updates
Winner of ttff's People's Choice Award: Best Short – BUCK: The Man Spirit
Steven Taylor is a multi-talented, soon-to-be 25 years old, budding Film Director and Special Effects make-up artist. He is known for his recent accomplishment at the Trinidad and Tobago Film Festival Award Ceremony. Having cupped the esteemed People's Choice Award for Best Short for "BUCK: The Man Spirit," Steven's dream is becoming a reality.
"I don't watch television anymore… TV for me is going down the road, travelling… going to Town Centre mall… liming on the taxi stand; 'people watching'… Going to Woodford square and chill out – that's where I draw my inspiration from… That's one of the things I was proud of — people felt the acting and the scenarios were real– 'cause it came from reality…"
BUCK: The Man Spirit was originally a thesis project of which he received First Class Honours in his Double Major – Film Production and Film Studies at the University of the West Indies, St. Augustine. From the onset, BUCK was a main attraction at the recently concluded, TT Film Festival and sold out at all screenings!
"…It's one of those awards where the people on the ground decide. The people wanted it. For me that's great, 'cause you can't cheat the people; there's no politics… That's excellent because I want to make film for the people; that's where I get my info from – from the people. I'm basically putting it back on screen so they can see themselves. Honestly, this people's choice award is soaking in… It has been a dream of mine from since the age of 7; I knew I wanted to do this. I wanted to be a Special Effects Film Director.  I did exactly that; I've just completed my degree in Film at UWI. It's all coming together… It's my first film of this length and we got an award. It would take a while for me to reflect on the steps it took to get to this point… it was a milestone achievement for me. I thank my mother for believing in me. I really want to do more film. There's a lot to think about – As a filmmaker from this region, how do we create our rules, create our vision, create our stories? I am in a position where I am reflective… I am very cautious as well; some people didn't believe in the vision, now they do, but I'm excited for the little recognition we are receiving for the project… there's a bit of mixed emotion."
Rachael N. Collymore: How did the idea for BUCK come to fruition?
Steven Taylor: BUCK came about with me wanting to go there with Trinbagonian film. I wanted to bring to screen, the characters that we talk about in our oral tradition. If we don't put them on screen as cultural artifacts, they will die out like everything else. I've always wanted to do that. With BUCK, my girlfriend and I were coming from HiLo and we encountered two Guyanese men, who approached us for help. They walked from Arima to Curepe and wanted to know how far it was to walk to San Fernando, where they lived… They were contractors who were waiting to be paid and the person never showed, so they decided to walk home… My girlfriend and I developed a story from that experience.
RC: A 'buck' also known as a 'bacoo' or 'baku' in Guyana, is a mystical folklore character, claimed to have magic powers and must be fed on time, or else can wreak havoc on the person who adopts it.
ST: Screen writing is something we lack. I tried to reach out to people. I ended up writing the script, which was to be a feature film. There were weeks of going at it, there were some days when I didn't feel to write and I was mad at myself and then there were times when I got a burst of inspiration and I'd go at it for 10 hours straight, then hunger and tiredness would kick in. Afterwards, I invited people from my class to comment and give feedback on the script.
People just want to see something that's real; that represents them and the stories we talk about; that's where the impetus, the imagination to do this script came from. In the end what you have is BUCK: The Man Spirit [chuckles].
RC: Do you believe television skews how people see themselves?
ST: Television is edited life. Television in our country right now is really coming from one source… We're getting a foreign edited life. We are not seeing ourselves on the screen, that's why we dress a certain way and sing these foreign songs. Nothing is wrong with that, but the television is not life; it's not your life. You are just on the receiving end. You have no input.
My mum had shared this quote with me: "If you want to maintain your creativity, if you want to be true to the talent you have, if you want to hone it and not skew it or become another one of, then you need to cherish it…" When I learned about that, I was like, let me see how I can preserve my innate creativity instead of watching a set of edited works; let me go to the source and learn more about the tools to create these pieces of works…
TV numbs your mind… It really does not stimulate. For me, I travel; I get my source of inspiration from real life. It's not about watching TV; it's about giving content for audience to enjoy.
Film-making and Budgetary constraints
The smaller the budget, the more innovative you have to be, you have to cram a lot of things in one. You have to have a supportive crew; you may also encounter people walking off your set when you can't pay.
Some of the scenes are too expensive to shoot; you make sacrifices, the story is abridged.
It would be great to see BUCK go places… I would love for it to show in Guyana, Barbados, Jamaica… People want to see the film; I keep getting messages for DVDs and so on. For me it's now about learning to break out of the T&T market and negotiating the deals. Maybe if we get a little more money to tie up the loose ends that we are aware of, we'll promote it. I'm not going to send it out there, knowing we have some issues, without tweaking it; it would be irresponsible of me.
The Trini audience would appreciate it, but if we have to send it anywhere else, we need to be responsible filmmakers, I think.
For me, that's what the screening of BUCK was about. Peer review is important. If we are to take it to an International audience, we know what audience feedback is like and what we have to work on.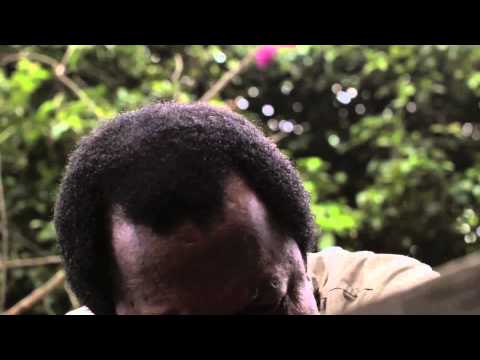 Early beginning:
"I remember mummy calling me to see a program called, Movie Magic on cable. I could be doing anything; I could be playing cricket – once mummy calls me and say, Movie Magic start, I gone! I'm like Audi when he hears the Play Whe jingle, he runs off – that was me. After watching Jurrasic Park -cause I'm an 80s child, I was like, 'that is what I want to do' – this man [Steven Spielberg] can bring to life anything he dreams of; he wants dinosaurs there and we love it. I worked my way to that steadily. Before I did Special Effects people said there wasn't a market for that, well I created a market… Dreams do come true once you work towards it."
What's next for Steven?
I really can't say much about it, because it's going to be a big budget one – this project should be 'D project', but I don't want to put the cart before the horse. I'll be doing a lot of film projects in 2013 and I should be working again with Errol Seethahal and Errol 'Blood' Roberts. I plan to go to LA to do a master in Film Directing.
MY MANTRA: Doing BUCK was a team effort!!! The team must be recognized for their effort and contribution: Errol Sitahal, Leela Maharaj, Errol 'Blood' Roberts, Ian Alleyne, Kareena Solomon, Fareed Ali, Stephanie Matadeen, Leslie Ann Wills-Caton, Karissa Narine, Navid Lancaster, Angelo Hart, Dominic Koo and Maurice Alexander. As much as the director gets all the acclaim and awards in film, there are people who just love acting, just love cinematography and they need to be recognized as well – especially in this project. They really went out of their way to make this happen.
Special mention: UWI lecturers, Yao Ramesar and Asha Lovelace – they guided us through, gave feedback and helped in the realization of this film. The media tend to single out the director; I do not believe it is healthy for the industry. It takes a team!!!