Feature: Of Honours and Creative Inclusivity: Christopher Cozier receives Prince Claus Award in Atmosphere of Collaboration
Friday, March 28th, 2014
Categories: Awards, Events, Features, Updates
Each year, The Prince Claus Awards are presented to eleven individuals or organisations whose work and actions have left an indelible mark on the culture and development of their societies. Among the 2013 laureates is Christopher Cozier, an artist, writer and critic from Trinidad and Tobago. According to the 2013 Prince Claus Award Committee Report, Cozier is honoured "for his influential role and open, inclusive approach in developing art and culture across the Caribbean."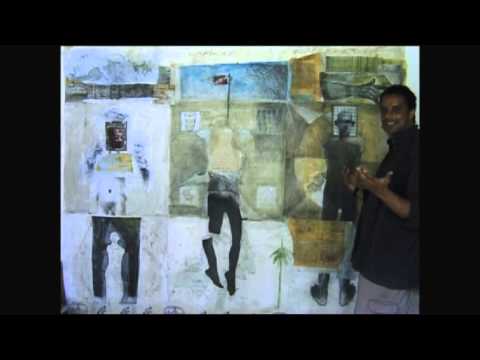 On March 18, 2014, Cozier was presented with the award at Alice Yard, Trinidad – a backyard space in the capital city of Port of Spain conceptualised as a site of creative experimentation, dialogues, exhibitions, screenings and performances. Cozier is a co-founder of the space, which uses an ecology model to expand Alice Yard beyond its physical location to a broad and ever-widening network of relationships and collaborations between various people, including painters, writers, photographers, filmmakers and musicians. The occasion of the conferment of the award brought scores of people into relation with each other at the yard, as Ambassador of the Kingdom of the Netherlands to Trinidad & Tobago, Lucita Moeniralam, and Prince Claus Fund Awards Programme Coordinator, Fariba Derakhshani, conducted the formal part of the proceedings.
Yet, the award was not the only memorable part of the evening. Cozier was determined to honour a spirit of collective, creative input. There were feelings of pride and elation as guests witnessed Cozier receiving the award, but the event fostered an even greater affective experience. There was too, an air of artistic democracy surrounding the setting of the ceremony within a poetics of inclusivity and relationality, as Cozier literally shared – through the interaction of artists and audiences – the latest versions of three contemporary art projects.
Visitors to the yard were first struck by the sights and sounds of the Sound System street installation. The roadway between Murray and Carlos streets were cordoned off, and several vehicles bedecked with custom-engineered speakers and sound systems were strategically lined up. One car, with its scissor or switchblade doors lifted, seemed to both welcome guests with open arms and present itself in such a way as to facilitate little or no obstruction of the flow of sound. The scissor doors were a visual signifier of the sound cutting through the air and across the space of the city.
Sound System is a collaborative project which began in 2001 with its first version displayed in Rotterdam. Other versions have been shown in Oslo Norway, St Maarten and Kentucky USA.  It is an accumulation of audio contributions over the years: recordings of Cozier's own voice as he narrates fragments of the texts that can be found in his drawings, mixes by sound producers Robin Foster and Martin Raymond and DJs Daniel Haun and Kevon Walker, and sound sequences by Yvette Grey, Trinidadian musician Sheldon Holder, Bahamian/Trinidadian poet Christian Campbell, Trinidadian jazz musician Chantal Esdelle, visual artists Sheena Rose of Barbados and Ebony G. Patterson of Jamaica, and trombonist/composer Jomo Slusher of Barbados. This latest iteration – the largest so far in Cozier's continued experimentation – was also supported by the involvement of Suspex Auto Club of Gasparillo, Trinidad.
The installation was a complex, multilayered soundscape that commented on the giving of voice and the capacity of sound to define and (re)configure areas. It interrogated notions of mobility (sound travels) and proximities (relationships between here and there; near and far). It attended to the idea of acoustic identities, that is, the way a bass track can take possession of the body or, put another way, the overlap of sound and rhythms with a sense of being. With its intensity and a volume that took on huge decibel proportions, the installation also addressed psychological states of dissonance and discomfort, as well as concerns about the politics or the power that is bound up in cultural productions and the control of spaces and knowledge – considering, for example, what is allowed to fall within and outside our earshot; what is muffled and what is rendered audible for us and the silences within the "noise" of existence.
Another collaborative feature was version two (read about version one here) of a series of projected images of Cozier's drawings from his recent project entitled The Arrest: Hands Up, Hand Out. The images were appropriated and reinterpreted through motion/animated sequences by artists Nadia Huggins of St Vincent and Rodell Warner of Trinidad. With technological support from North Eleven, projections of various elements – birds, a hand, a spot of blood, a gas pump, a foot, a coin – inundated the senses and invited engagement and translation. The changing shadows cast by guests passing in front of the screen added to the sensory flood of signs and served as indicators of the ephemeral, shifting nature of any meanings we might have attempted to construct and hold on to with certainty and finality. The images meant this; no, they meant that – all in a continuous play of personal associations and possibilities that could arrest us forever.
Cozier also shared his Made in China project, a three-dimensional version of an image that has appeared in his works on paper. It is a box (made possible with the assistance of Trinidadian designer Marlon Darbeau) with the engraved label: MADE IN CHINA. Cozier uses the structure and the words to reflect on narratives of development, progress, value and consumption. It is a pedestal of sorts upon which a person might stand to feel important, "big" and influential, or it is perhaps an instrument of our demise. At Alice Yard, guests were invited to stand on the object as photographer Shaun Rambaran captured pictures of shoe-clad and bare feet. Guests became creative performers who interacted with the box in diverse ways that gave a tangible dimension to acts of manufacturing and branding (constructing and labelling self) and demonstrated relationships to notions of importation, commodities and trade.
These three art projects pointed the way for us to see the development of Caribbean societies as resting on cornerstones of partnership, inclusivity and participation, with efforts at advancement being decentralised rather than confined to a monopoly. Christopher Cozier's contemporary art resonates with a cotemporality and contemporaneousness that are understood as our coming into being with each other – our contemporaries – at the same time.